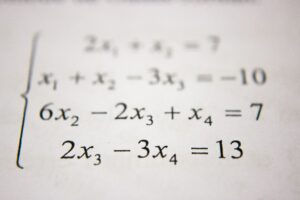 There is a perfect sales equation every B2B software or SaaS firm strives to execute; like any visionary goal, it is an aspirational journey and the farther along one gets the better one does.
We self-fund our firms.
Actually, we fund them with revenue from early deals so we do not need venture capital. Self-funding is the best way to concentrate one's mind around what works, what fails, what wastes.
Our starting point is the Perfect Sales Equation. It goes something like this:
We present our differentiated software technology to the key decision-maker and cluster of advisors from a single reach out. They agree to proceed or not with a sales process during that single visit.
The desired outcome is the decision-maker and advisors agree to move forward investigating our claims against their business problem or tell us they are not going to do so.
What is missing here is ambiguity.
We are in a sponsored sales process or not. We are going to expend resources toward an agreed-upon end or not. We skip a protracted, multi-month, expensive sales engagement that eats resources.
We do not chase elusive or delusional opportunities.
Our resources are 100 percent focused on deals with a high likelihood of closing, in a predictable time frame, with executive sponsorship.
The Perfect Sales Equation is our goal. While we don't always achieve it exactly, every sales campaign is planned, in advance, to eliminate excess steps, reduce ambiguity to a minimum.
We measure every pursuit against the Perfect Sales Equation.
The first part of the equation is the access to the decision-maker. Since our goal is one call or reach out, traditional sales and marketing are out of the question. We would never send a cold email, cold call, try to get around the gatekeeper. We know key decision-makers do NOT want to be interrupted.
They hate talking to salespeople.
We engage with a trusted advisor to the decision-maker, show them our solution and map it to what we believe the decision-maker would find compelling. We tailor our message from the advice received from the trusted advisor. When or if the advisor believes we have something of distinguished value, he or she takes us into that single call.
This eliminates the direct sales force, a marketing department buying DiscoverOrg lists, a battery of business development reps (cold callers) and those expenses.
During the face-to-face call, we map how we impact the decision maker's organization in a manner fundamentally different from any other solution. In every case, the decision-maker tells us he or she has never heard about technology like ours, so there is some education to do.
To educate quickly about a novel technology, we skip complicated demos, self-serving white papers. We present a 4-cell cartoon. The cartoon explains in fewer than 50 words the outcome his or her firm will receive, contrasts it with current technology outcomes and lays out the next step. Humorously.
Most B2B tech firms start with the infrastructure.
They hire an army of salespeople with base salaries well over $100,000. Supporting them is a larger army of cold callers generating leads. More expensive than both is a Marketo-SPAM marketing machine churning out emails, webinars, logo-wear, and events.
There is zero correlation that these expensive resources will ever get anywhere near the Perfect Sales Equation. They are purpose-built to generate activity, not penetration or persuasion. They can only be funded by venture capital that impoverishes employees and founders.
There is a lot to be said for simplicity in B2B sales today. Beginning with the goal in mind – The Perfect Sales Equation – then building the structure to deliver it ends up with a very different sales organization.
The result is a small cadre of highly focused experts, finding trusted advisors, educating them and aligning some benefit for them engaging with new, disruptive technology.
Costs of sales and marketing are well under 20 percent, no venture capital dilutes ownership, customers find the engagement process refreshing and fun.
B2B sales does not need to be so complicated.
Reprinted from Software Executive Magazine OnLine